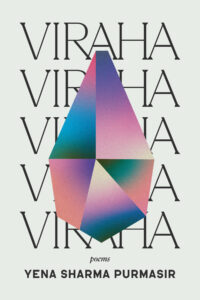 VIRAHA is a collection birthed out of a space of enduring loneliness, a celebration for the hope of life, that never stays dead for long. These poems repurpose and invent mythologies, situating human fragility and resilience as part of the natural world: every broken heart, lost love, failed dream is as ordinary and bewildering as the sunrise, as a bird in the sky. This is a book about the hard work of continuing.
"VIRAHA is a collection dripping with longing. These poems show a girl can remake herself again and again through desire. And through writing from a place deep within the self, a shadowy "cave" that is teeming with myths. Yena writes, "The cave–the dark lonely space that ate into me." These poems feast. They swing between a girl who is learning through crushes, summer nights, and mythos, and a girl who knows."
—Lora Mathis, poet
"A truly remarkable book, one I already know I will return to many times. In turns sharp and wounded, angry and fragile, every poem managed to surprise me. Yena Sharma Purmasir's voice in this collection is inspired." 
—Clementine von Radics, author of Mouthful of Forevers
---
Poet and essayist Yena Sharma Purmasir crafts an unwavering exploration of the universal feminine experience in her newest poetry collection, Our Synonyms: An Epic. With knife-like precision and empathy, Purmasir retells the stories of women from religious mythologies and intertwines them with the secular and sobering realities of today. Read along as Purmasir navigates the complexities of the feminine experience through themes of suffering and violence, grief and love, girlhood and motherhood, and the justified rage that remains throughout.
"A gorgeously searing meditation on womanhood and worship, violence and desire. Purmasir has a sharp yet loving eye for the innermost details of a pain as old as time. I needed this book, and can't wait to share it with my own mother. Should I ever have a daughter, it'll be required reading for her as well."
—Lyd Havens, author of Chokecherry
"Our Synonyms does not accept political categorizations of violence as inevitable; rather, this book is committed to emotion in precise, human detail. This book's chorus of speakers understand intimately what it is to be consumed, and bare their teeth in protest."
—Gaia Rajan, author of Killing It
Purchase from Party Trick Press
---
Released on the 15th anniversary of her father's death, Purmasir's sophomore poetry collection grapples with the aftermath of her loss. Written in her father's voice, these poems span a series of iconic moments, moments that define most parent-child relationships: her first crush, her college graduation, her deep-rooted loneliness. When I'm Not There is for anyone who has had to accept the finality of death and, despite this, must continue to live.
"In this collection, Purmasir sheds her skin so wholly and so truly that you forget her fingers are the ones holding the pen. Purmasir steps away from herself and into her dead father to look back at the world she has existed in without him. She peers into the shadowy corners of her own life and, through her father's eyes, floods them with light. If this seems sad, be sure that isn't the only thing it is. It's also funny and beautiful and so devastatingly human that you almost want to look away. You almost aren't used to such unwavering honesty. This collection peels grief apart layer by layer and stands unflinching in its glory and horror."
—Fortesa Latifi, author of This Is How We Find Each Other and We Were Young
---
Until I Learned What It Meant [OUT OF PRINT]
Until I Learned What It Meant is Yena Sharma Purmasir's first book of poetry. The book is divided into three parts, weaving together themes of racism, sexism, body image, and overarching themes of love: love of the self, romantic love, love of tradition, and love for god. Purmasir writes with an intensely original and unique style that is sure to be a favorite to read over and over again.
"This poetry book is gold … Its moving, deeply personal pieces effortlessly plant you in the author's shoes over and over again. And isn't that what we want from poetry? Fierce secondhand emotion. This book hits you like a brick to the chest with fierce secondhand emotion."
—Trista Mateer, author of Honeybee and Aphrodite Made Me Do It
---
Humanity exists in a hyper-connected world, where our closest friends, loves and enemies lie but a keyboard stroke away. Few know this better than the poets who have risen to the top of their trade by sharing their emotions, opinion, and art with millions of fans. Combining the poetic forces of some of today's most popular and confessional poets, this book presents poems and short stories about connection wrapped up in a most unique exercise in creative writing. Follow along as your favorite poets connect with each other; offering their poetry to the next poet who tells a story based on the concept presented to them. With contributions from Amanda Lovelace, Nikita Gill, Iain S. Thomas, Trista Mateer, Cyrus Parker, RH Swaney, Liam Ryan, Yena Sharma Purmasir, Canisia Lubrin, and Sara Bond.